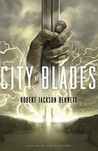 Title: City of Blades
Author: Robert Jackson Bennett
Publisher/Publication Date: Broadway Books, January 26, 2016
Genre: Fantasy
Source/Format: First to Read, eARC
Goodreads
Amazon
Barnes & Noble
Book Depository
Synopsis from Goodreads...
The city of Voortyashtan was once the domain of the goddess of death, war, and destruction, but now it's little more than a ruin. General Turyin Mulaghesh is called out of retirement and sent to this hellish place to try to find a Saypuri secret agent who's gone missing in the middle of a mission, but the city of war offers countless threats: not only have the ghosts of her own past battles followed her here, but she soon finds herself wondering what happened to all the souls that were trapped in the afterlife when the Divinities vanished. Do the dead sleep soundly in the land of death? Or do they have plans of their own?

My Thoughts:

The wait was worth it. There's no question about it. I read the City of Stairs back in August of 2014, and I remember really liking it. I was pretty ecstatic when I heard about a sequel, and I've been waiting for it ever since.

City of Blades was fantastic. I liked it even better than City of Stairs.

The story takes place some years after the end of City of Stairs, with characters from book one occupying very different positions. Some have dealt with it better than others, but it was interesting to see where they ended up. However, the story focuses on General Turyin Mulaghesh, one of the memorable characters from book one. There, of course, was a new conflict involving the Divine. Trouble ensues because wherever there are things that can't be explained, well, it usually ends very badly. And Mulaghesh gets wrapped up in these troubles after getting called out of her retirement. The setting was pretty much limited to Voortyashtan, but it was an interesting city that fit with the story.

The concept is just one element that I enjoyed about Cities of Blades and City of Stairs, and again, it was nice to see it play out. The treatment of the fantasy elements combined with the quickly developing world was just awesome. There were cars and trains, weapons and so on, but then, there were also the lingering scars of the time from before the first book, where the Divine held a big sway over the world. There were still things that couldn't be explained. And that's what made these books so great—the combination of elements.

I'm really glad that Mulaghesh got her own story. One of the best parts was getting to see things from her perspective as she handled situations in her own way. She was a great character throughout and is one of the reasons that I enjoyed City of Blades so much. Her reactions were some of the best parts. There were other characters—some I was already familiar with—but there were some new faces. The new characters were just as great.

City of Blades was a fantastic sequel. So yeah, the wait was worth it. It really was.
Rating / 5/5
This copy of the book was provided by First to Read (publisher) for this review, thank you!
About the Author...
Robert Jackson Bennett is a two-time award winner of the Shirley Jackson Award for Best Novel, an Edgar Award winner for Best Paperback Original, and is also the 2010 recipient of the Sydney J Bounds Award for Best Newcomer, and a Philip K Dick Award Citation of Excellence. His fifth novel, City of Stairs, is in stores now. He lives in Austin with his wife and son. He can be found on Twitter at @robertjbennett.